Does your organization have recurring processes or projects that often follow the same flow? Ensure consistency and accountability by implementing these flows into Bynder's Creative Workflow module.
With our Workflow module you can easily collaborate and communicate with both internal departments and external agencies from one centralized point. You can review and approve tasks and assets, and indicate which co-worker is responsible for which projects, and which tasks are pending.
To save you and other users time Creative Workflow makes use of presets. These are predefined flows of stages, tasks and responsibilities. You can build as many presets as you need for to cover all the use cases in your organization.
Discover the creative workflow module below and start implementing your projects and processes in Creative Workflow.
Skip directly to
The following are the key features of the module:
Workflow management - You can group your projects into campaigns and ensure that your colleagues and any relevant third parties—such as agencies and consultants—only see the projects or activities that they are directly involved with.

Predefined and customizable creative process - Presets help you predefine your process while jobs can reproduce and help manage it.

User involvement based on permissions - Involvement in a campaign or job can be predefined and restricted for those that aren't involved.

Interactive process - Users can provide (private) feedback and share comments, annotate assets, add shapes to assets to point things out, and add messages to the notifications that are sent out when the job is approved to the next stage.

Unlimited stages - you can create as many stages in a job as you need.

Compare versions in jobs - you can compare and remove previous versions of assets.

Sidebar - the sidebar gives you easy access to Creative Workflow campaigns, jobs and other parts of the module.

Zoom functionality and magnifying glass to help you see details of your assets.
The sidebar available in Creative Workflow allows you to navigate through the module. Click Campaigns to go to the Campaign overview screen and click All jobs to access all the jobs you have access to. You can also click one of the individual campaigns in the sidebar to directly see an overview of the jobs that are part of that campaign. Check the animation below to see the sidebar in action.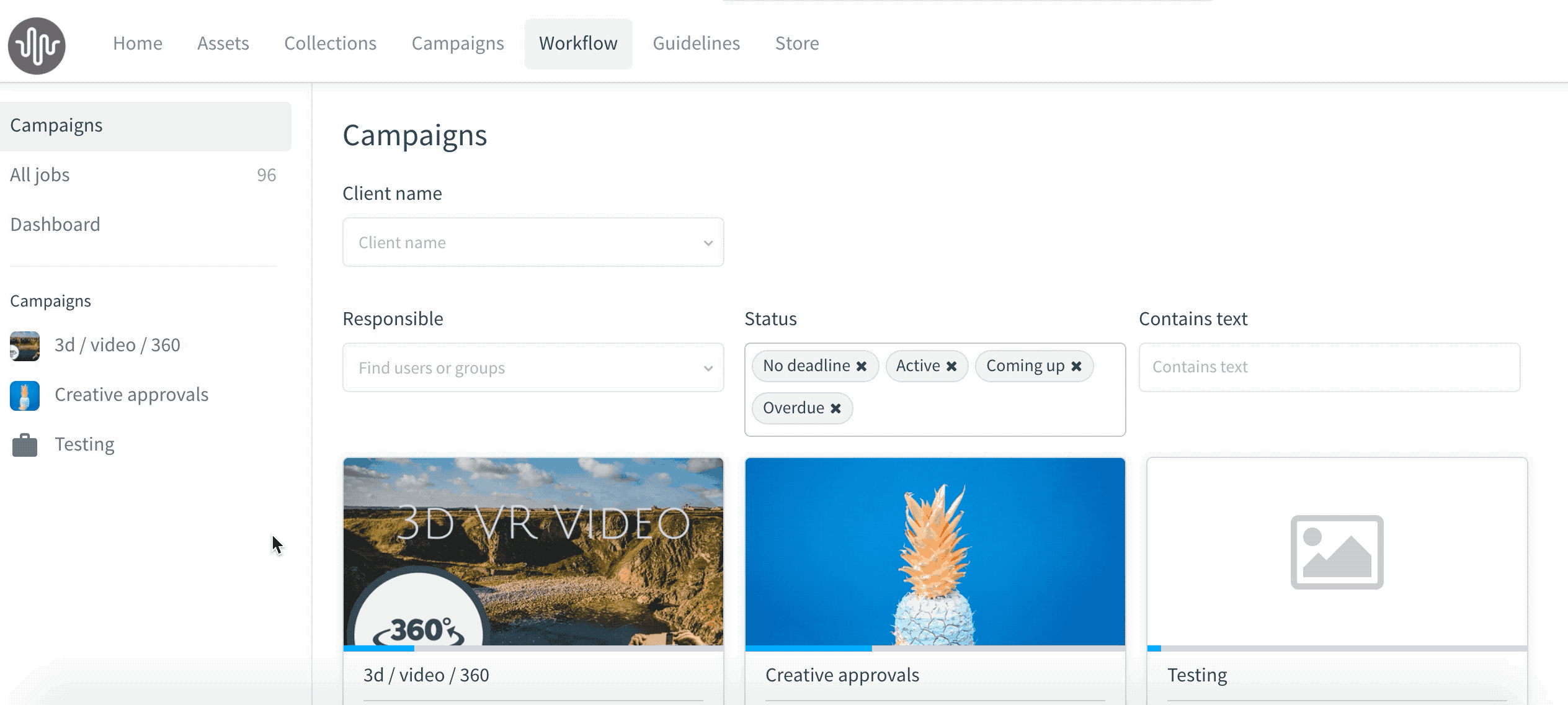 Workflow consists of two important elements, campaigns and jobs. Each campaign can have multiple jobs. Some jobs allow you to customize a POD template in order to, for example, create a business card or a poster. Jobs consist of one or more stages, which in turn can include individual tasks. Both tasks and stages can be assigned to an individual user or to a group.