Once you select an asset or assets you can edit, delete, share, or add an asset to a collection you can do so using the action toolbar that appears at the top of your Bynder Portal.
Note
Working with files is permission-based, so if you do not have the Edit assets right, you will not see the edit icon. Similarly, if you do not have the Delete assets right, you will not see the trashcan icon.
Select the assets by clicking on the asset and selecting it in the top right corner.

To select multiple assets, click the left button on your mouse and drag the mouse over the assets you want to select. The items located in the blue selection area will be selected when you release the mouse button.

You can also expand the arrow in the top filter bar and select all the assets in the asset bank or just those that are visible on the page (Select visible media).

To quickly select all assets in the Asset Bank, simply click in the box in the top filter bar, to select it. You can see that the assets have been selected, because the box displays as selected. To clear your selection, click in the box again.
Tip
Search for keyboard shortcuts by clicking SHIFT + ?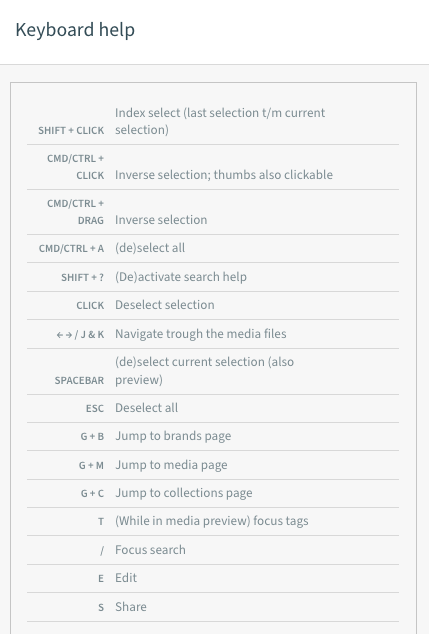 You can see how many assets have been selected by looking at the selected asset count