To prepare for the implementation of the Creative Workflow module, start documenting your workflow processes. The most important aspects that we need to know are what is happening and who is taking the action. Sometimes a number of people may be involved during the same stage, and our implementation team will help you determine which actions should be stages and which actions should be tasks within a stage.
The following is a line-by-line work process for designing a flier:
Project Owner fills out brief to request a designed flier

Content Writer writes draft of the text for the flier

Content Editor comments on the draft

Content Writer re-writes the text

Designer uploads a draft of the flier

Content Writer reviews the draft content

Designer uploads a second draft of the flier, if necessary

Project Owner approves final design

Delivery Team submits the designed flier to the Asset Library
The following diagram draws out the above line-by-line workflow into stages (also detailing the WHAT and WHO).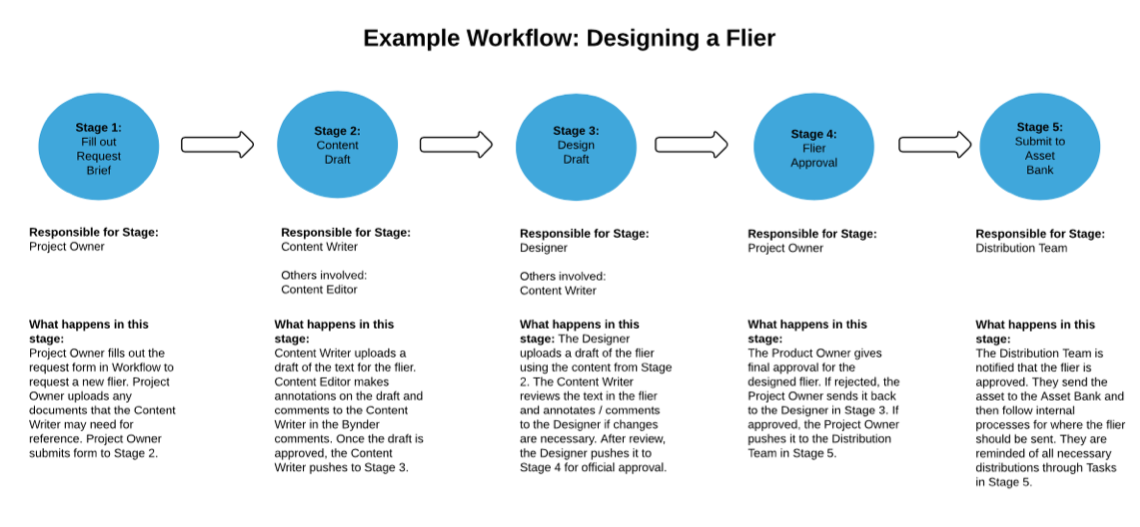 This is an example of a poorly designed workflow.