Save and publish designs in Studio to make sure your users have access to the latest designs.
Navigate to Studio.
Either create a new design or edit an existing design.
Make your desired updates in the Design Editor and click to Save changes.

4. Once you've made your changes click

Publish

in the upper right corner. 

Publishing your changes will make the updates visible in the Content Configurator and Design Editor. 

Publishing your changes will always save your changes.

Publishing changes will

not

make the design visible to other users unless you've shared it with others.  
5. To save your changes without publishing click

 and select Save Changes.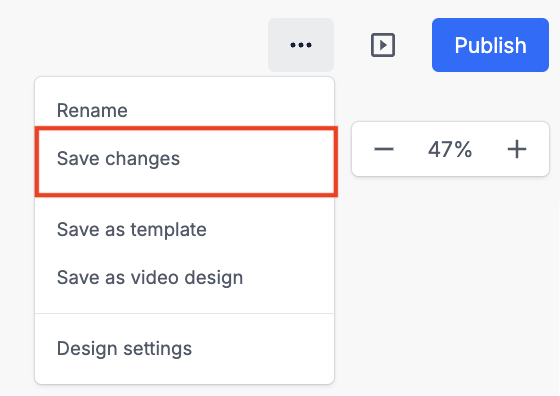 Note
The latest changes will not be reflected in the content configurator until changes are published.  
Tips
We recommend always publishing your changes to ensure the most updated version is being used by all users who have access to the design.